High demand by choice renters trying to escape the housing turmoil pushes real rents up by 6% to 8%.
Landlords and tenants are throwing a bucket of cold water in the hope that rent inflation will return – that doesn't seem to be happening.
These reports are coming from the largest landlords of single-family homes and multifamily landlords. The largest landlords of single-family homes are publicly traded, and so they report operational details, such as actual rent increases for lease renewals for newly executed leases on a same-home basis. Apartment data is based on millions of real transactions, renovations and new leases.
Those are the actual rents that tenants pay. Changes in actual rents for specific rental units are also the basis for measures of rent inflation in the Consumer Price Index and PCE Price Index.
None of them include "asking rents," which are the advertised rents that landlords want to receive for their vacant apartments, whether or not they are able to actually lease to rent-seekers. Zillow, Zumper, Apartment List, and others report "rental demand". The double digit increase last year was in asking rent, not in actual rent.
Rent increases reported by the largest single-family rental landlords,
Nivantan Homes [INVH]In its income call For Q1 on May 2, it said rent growth in April showed "further acceleration" in newly executed leases:
April new lease rent increase: +7.5%
April renewal rent increase: +7.2%
April compounded rent growth: +7.3%.
In terms of Q1, it said, "we also saw a strong demand return following the winter leasing season, with new lease rent growth accelerating sequentially each month during the first quarter":
Q1, New Lease Rent Growth: +5.7%
Q1, renewal rent growth: +8.0%
Q1, compounded rent growth: +7.3%.
American Homes 4 Rentals [AMH]in its Q1 income call On May 5, it said that "strong demand fueled solid occupancy and rental rate growth," continued in the first quarter and into April.
April New Lease Rent Growth: +9.4%
April renewal rent increase: +6.2%
April compounded rent growth: +7.1%
which were "well above our seasonal pre-pandemic norms," ​​it said.
Q1 New Lease Rent Growth: +7.8%
Q1 renewal rent growth: +6.8%
Q1 compounded rent growth: +7.1%
That "propelled same-home core revenue growth of 7.7% for the quarter," it said.
John Burns Research & Consulting informed of Some "takeaways" from the National Rental Home Council Industry Leaders Conference, included:
"Rent growth has been driven by a substantial shift from choice to tenants."
"The tenant profile in professionally managed build-to-rent and single-family rental communities is changing significantly. Even more renters are turning to renting single-family homes rather than buying one. More prospective homeowners believe that prices and rates will come down and more resale purchase opportunities will emerge, so they are delaying their home purchases.
"This shift has increased the number of renters who are sensitive to lower rents, creating demand for higher quality rental properties.
"These renters, by choice, value better interior finishes, better amenities and overall design, which were generally not available 15 years ago. As a result, property owners and managers can earn a premium for such properties.
Multifamily apartment rents continue to rise.
The National Multifamily Housing Council released its industry benchmarks report for January last week (the delay is to comply with federal antitrust guidelines, it says). This data is based on executed transactions tracked by RealPage from over 13 million rental apartments in over 400 markets. The "asking rent" for vacant units does not include:
New Leases (per sq. ft.): +8.9%
Rent on renewal (effective rent on same unit): +8.4%.
you get the idea,
Lots of rental demand, given the high cost of ownership. A lot of people are now asking the question why buy a home when you can rent a similar home for much less and get out of the way – falling home prices and high mortgage rates.
And it's relatively high demand from people who are renters of choice, who got the biggest wage increases in 40 years, is driving up rents. That dynamic has been in the making for a few years. And it hasn't disappeared at all, but seems to accelerate based on these reports from the industry.
Rents are a big factor in the CPI and PCE price index.
The Consumer Price Index for April will be released this week. About one-third of the CPI is "shelter," which is based on two rent factors: owner rent and primary residence rent.
Both factors have increased last year and this year. In March, OER was 8% and rent was 8.8%, Incremental growth slowed in March, and is likely to slow further, and year-over-year increases are likely to peak, with annual rent inflation finally falling below that 8% level.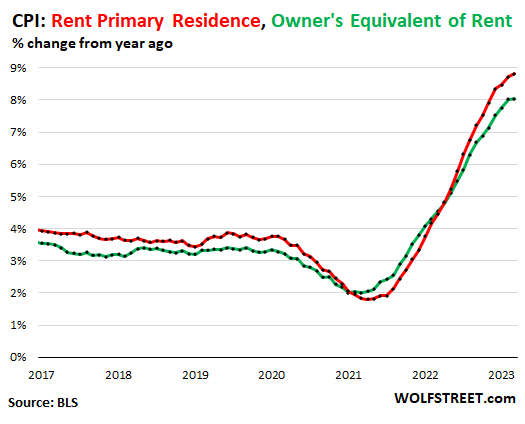 And those indexes remain consistent with what landlords report.
In the data reported by landlords we can see that a 6% to 8% increase in actual rents – renewals and newly executed leases, which is how the CPI measures rents – is currently underway. So it's a little bit slower than CPI rent increases in the 8% to 9% range.
But the 6% to 8% range is a far cry from what is expected to be a huge drop in rents — expected to be a big drop in "rent seeking" from the double-digit spike last year. But neither the spike nor the drop-off from that spike made it into the actual increase that tenants are actually paying at renewals and when signing new leases.
So it seems unlikely that Fed Chair Jerome Powell's assumption that rent inflation will slow sharply in a few months, and that real rents are already going down, and that rent inflation will reach a point where it is no longer won't be the issue, and that the CPI for rents is coming back in the 2% to 3% range, and that decline is already baked in because the rent index is a lagging indicator, etc.
Based on these actual fare increases, it appears highly likely that fare inflation will remain well in the warm range above 6%, and that measures of service inflation and "core" inflation will help ease. What the Fed is now so focused on.
Enjoy reading WOLF STREET and want to support it? You can donate. I appreciate it very much. Click on the Beer & Iced-Tea Mug to find out how:

Would you like to be notified via email when WOLF STREET publishes a new article? Sign up here,