The "pending sales jump" (still -24% year-over-year) was like January. It's still a frozen housing market.
Funny how it works with hype-and-hoopla shows. The hype about the housing market getting up in January – this Needed Pick up in January, and many more, because this is the beginning of the spring sales season – was simply deafening. But it's already over, just weeks after it started.
Mortgage applications to buy homes have declined every week since late January and are now at a 28-year low. Mortgage applications to buy a home are a leading indicator of home sales volume. They fell 44% year-over-year and 48% from two years ago, the lowest since 1995, according to data from the Mortgage Bankers Association today.
But note the rise in mortgage applications in January, up from levels that collapsed from October to December. It was brief – basically, only two or three weeks that peaked in the reporting week until January 25. And then it all fell apart.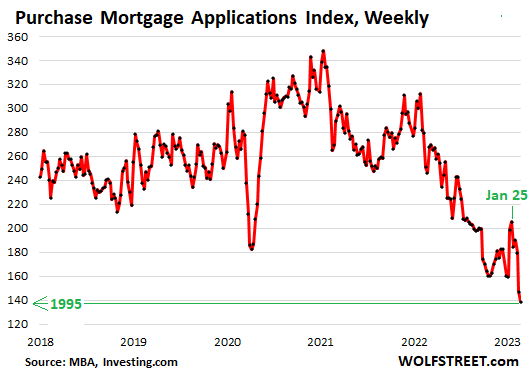 Homebuilders played a big role in the January hype-and-hoopla show. They are living off their backlog as their sales orders fell 40% to 60% in Q4. Those sell orders, if they are not canceled, represent future revenue. Builders' fourth quarter revenue and earnings were largely derived from completing homes and closing sales from past sales orders, which were part of their backlog. They were keen to address the drop in sales orders in Q4, which represent future revenue. So they focused on increasing sales orders in January from the level that fell in the fourth quarter. Analysts went for it, and homebuilder shares soared, which was the objective.
Then came the media's breathless headline from a few days ago about a "pending sale" by the National Association of Realtors. The media, always eager to hype housing, was all over it: "Pending sales rose 8.1%," and things like that, read the headlines. Jumped with whom?
From the levels that collapsed in DECEMBER. Pending sales were still down 24% compared to January a year ago! But most people only read the headlines.
The 8.1% increase in pending sales from levels that collapsed in December was triggered by a brief and now 6% drop in mortgage rates.
Everything jumped in January, stocks, bonds, crypto. Bankruptcy equities and collapsed post-SPAC and post-IPO stocks doubled or tripled in days. As bond prices soared, long-term yields fell, and mortgage rates also fell to that 6%. And it caused a brief uptick in home sales from levels that fell in December.
But in February everything turned upside down. The 10-year Treasury yield is back at around 4%. The average 30-year fixed mortgage rate is now closer to the magic 7%. markets are finally starting to see so slowly that this inflation is stickingthat it reheated in December and JanuaryAnd that interest rates are getting higher and remain so for a long time.
And the spring sales season has already fizzled out. All this hype was based on what seemed like a period of two or three weeks in January when activity rose from depressed levels at the end of last year. But even at the peak in late January, mortgage applications were still down 32% from a year ago and 38% from two years ago.
It's still a stable housing market, that's what the mortgage applications tell us. In order for sales volume to rise to normal levels, prices need to be lowered, and much, much more makes sense with a 7% mortgage.
There is a stand-off in the market, with many potential sellers, confused by all this hype, still thinking that this too shall pass, namely these mortgage rates, and somehow sub-3% mortgages are able to keep their aspirational prices. But it's possible to come back, even if inflation is eating everyone's lunch, in some cases literally. And so they cling to their aspirational prices, or take their vacant properties off the market, waiting for a return to 3% mortgage rates.
A healthy – or at least a thawing – housing market requires sellers and brokers who are in touch with reality, and reality is determined by potential buyers.
Enjoy reading WOLF STREET and want to support it? You can donate. I appreciate it very much. Click on the Beer & Iced-Tea mug to find out how:

Would you like to be notified via email when WOLF STREET publishes a new article? Sign up here,