Another sign the economy is flying a brutal high and refusing to ground even with short-term interest rates above 5%.
Seasonally, May is the best month to start construction on single-family homes and multi-family buildings. Typically, residential construction begins at its annual peaks between April and July. Today, the Census Bureau released May's construction starts, and they were a shocker, even as single-family construction begins to rebound from its January low, and after the craze of the mid-1980s. Since then rising to the highest level. Both are well above any bearish scenario.
Construction of multifamily housing units begins Occupancy in buildings with five or more units (such as large condos and apartment buildings) increased to 58,500 units (not seasonally adjusted) in May, the highest since 1986, up 42% from May last year and up 49% from May 2019.
More importantly, the 12-month average, which removes large seasonal and month-to-month fluctuations and shows longer-term trends, reached 45,100 units, the highest since 1986 (green line). highest since.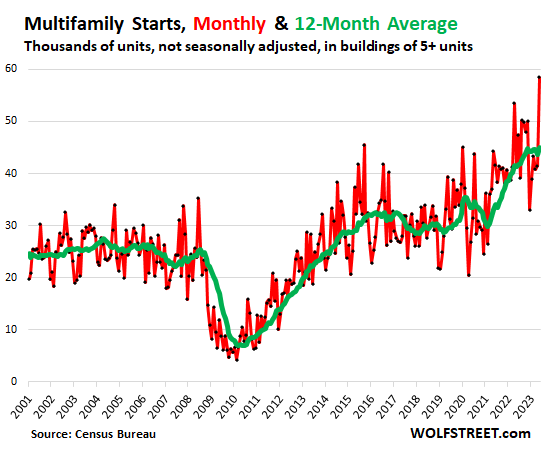 Large multifamily projects take a long time, and planning for these buildings whose units appear in the May figures began a while ago — with larger projects, years earlier.
In large, densely populated urban cores, high-end multifamily buildings with lots of amenities are the only type of housing being built—a trend that has been going on for many years—while the bulk of single-family construction The part is further away from the urban core.
For buyers and renters alike, the decision to live in a new multifamily building in an urban core or in a new home comes down to a choice of lifestyle – not necessarily price, as both are now expensive.
Construction of single family homes begins, After a steep decline that began last summer as unsold inventory piled up, April to May jumped 18% to 91,900 homes (not seasonally adjusted), marking a seasonal increase from January's low 4th month in a row. Not included are manufactured homes (mobile homes).
The starts were 5% lower than in May 2022.
Openings were down 16% and 18%, respectively, compared to the blowout boom months of April 2022 and June 2021.
But compared to the more typical May 2019 period, there was an 18% increase in starts.
For the longer trend, the 12-month average fell further to 74,200 in May, well above the high end of pre-pandemic levels, and up 4% from 2019. Onsets essentially capped the peak of the pandemic – and based on monthly onsets, are now accelerating again (green line).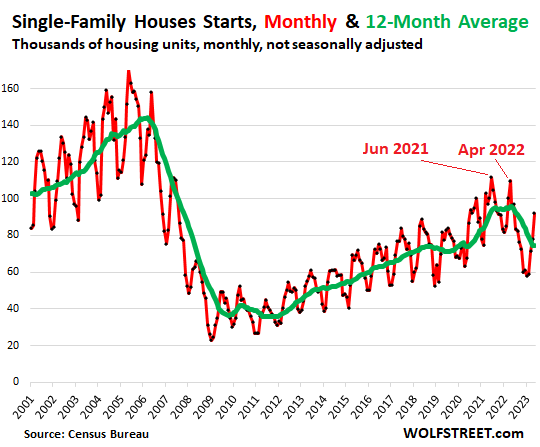 total residential construction starts – Single-family homes and multi-family buildings combined – rose to 128,600 housing units in May (not seasonally adjusted), up 7.5% from a year ago and up 28% from May 2019.
For the longer trend, the 12-month moving average started at 120,400, down from the peak of the pandemic but still up 18% from May 2019.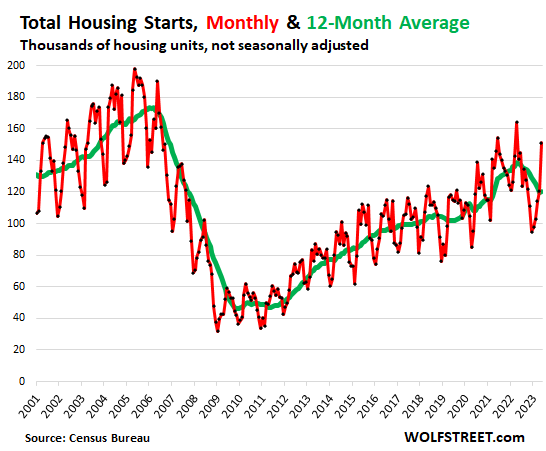 share, boom and bust,
Single-family housing as a share of total dwellings fell to 61.5% in the 12 months to May, the lowest share since 1986.
The share of multifamily starts in buildings of 5+ units increased to 38.7%, the highest share since 1974.
The share of multi-family start-up buildings with 2 to 4 units has declined to less than 1% over the years.
And this trend makes sense in the long run as urban sprawl in big cities makes traveling ever more hellish. Working from home has waned for office workers, but now many employers are trying to get their people back to the office at least a few times a week. And non-office workers can't work at home anyway.
Over the long term, huge waves of housing booms and busts come and go. Housing Bubble 1 was an epic creature for single-family starts; The 12-month average peaked in 2005 at about 142,000 homes per month, almost double the rate today.
The multifamily bubble had its moment in the sun in 1973 when the 12-month average was 75,000 units per month, and again in the mid-1980s, when it peaked at 50,000 per month. But those years were years of very high population growth. Population growth has slowed down in recent years. And the more recent multigenerational beginnings are approaching the mid-1980s.
Longer-Term View, 12-Month Average – On a month-to-month basis, last year's decline in single-family adoption begins to reverse this year and that reversal will be reflected in the 12-month average over the summer).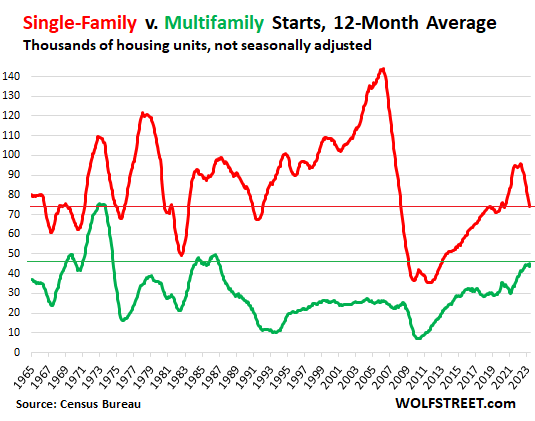 Enjoy reading WOLF STREET and want to support it? You can donate. I appreciate it very much. Click on the Beer & Iced-Tea mug to find out how:

Would you like to be notified via email when WOLF STREET publishes a new article? Sign up here,